Thicker casing and intelligent profiles provide more solidity and tightness. The housing components are more effectively connected with external panel joints. No screw connection in the air flow is the key to hygiene. The profile in its simple implementation – pure in form and function.
Expect more – our brand promise aptly describes how we work together with our employees and our network of customers and suppliers.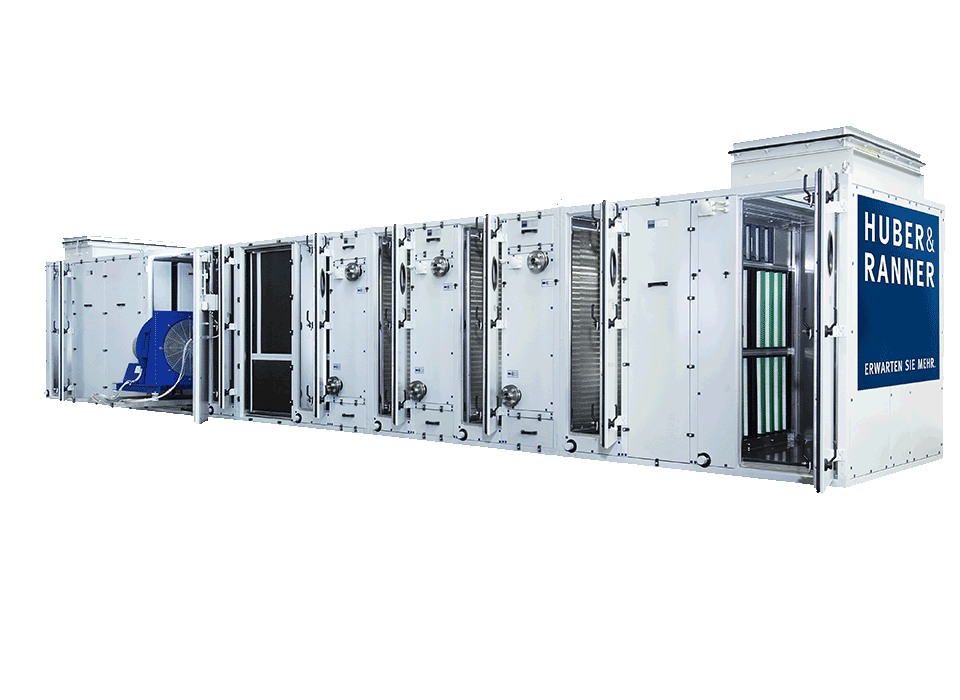 We guarantee perfect climate, even under extreme conditions. Rooftop units are particularly exposed to the weather conditions. Extreme fluctuations in temperature and moisture stress the material to a considerable extent. Huber & Ranner offer  the AHU you need.
Your competent contact person regarding this topic is:
Dietmar Huber
+49 8531 705-31
Huber and Ranner offer custom-tailored air handling equipment for flexible solutions to meet even the most sophisticated requirements. All our products consist of singular modules that match each other ideally and can be arranged in a flexible manner. The components are designed to work in partnership, allowing top performance and low operating costs, and using intelligent controls for improved output and maximum efficiency. We only use high-quality products. The use of the latest technology and a commitment to innovation ensures that the appropriate level of performance is achieved at all times according to load requirements whilst simultaneously minimising energy usage.
…every air handling unit manufactured by Huber and Ranner is a valuable investment in the future of your business.
FLEXIBILITY
Each of our products is custom-tailored to your individual requirements. Our modular variant concept enables us to offer you bespoke solutions that meet exactly your demands. Installation of stilts? Shifting the service doors because of structural conditions? Installation of inspection windows at specific parts of the AHU? These cases are daily business for Huber & Ranner.
CLEANLINESS
Hygienic construction is of highest priority to us. Our newly developed hygienic AHU construction has perfectly even surfaces and the air flow is untouched by the cable routing. We provide the ideal solution for any requirement.
LONGEVITY
Our air handling units are built for continuous operation. Producing durable products of highest quality is an essential part of our philosophy. The solid construction of our devices is a good reason to choose a product by Huber & Ranner.
ECONOMIC EFFICIENCY
Our range of technologically advanced air handling units will enable you to enhance reliability, efficiency and profitability. Our quality criteria ensure the economical and environmentally friendly operation of our plants.
RUNNING SMOOTHNESS
All our AHUs are designed to guarantee a low noise level.
EASE OF MAINTENANCE
Our air handling devices do not only convince by their outstanding performance but also by their user friendliness. Maintenance costs can be significantly reduced as our products are easy to maintain.