advantages in series of air handling units
Expect more – our brand promise aptly describes how we work together with our employees and our network of customers and suppliers.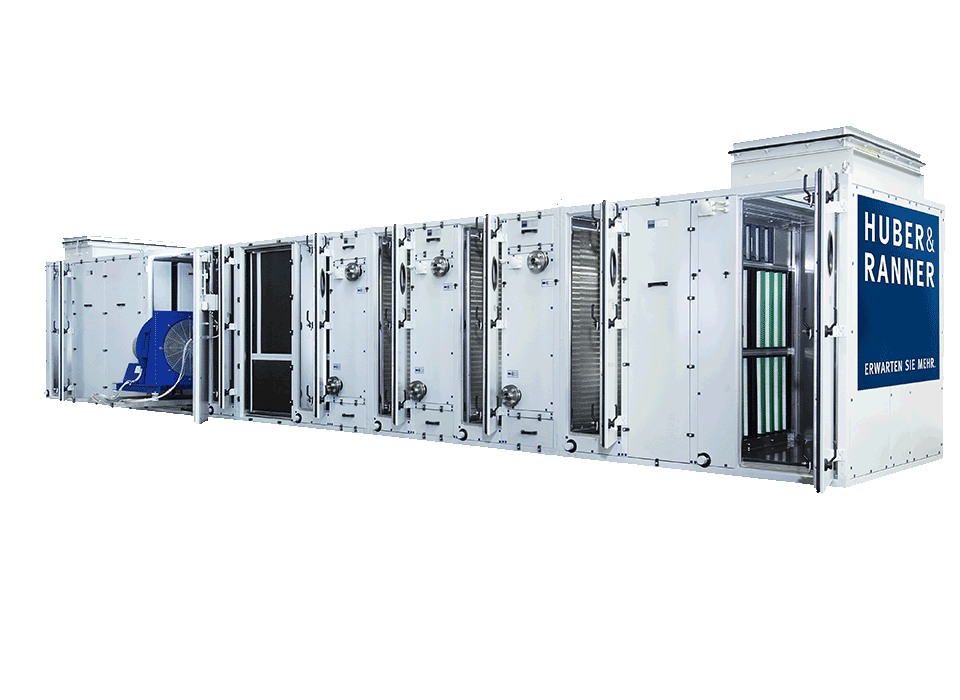 We guarantee perfect climate, even under extreme conditions. Rooftop units are particularly exposed to the weather conditions. Extreme fluctuations in temperature and moisture stress the material to a considerable extent. Huber & Ranner offer  the AHU you need.
Your competent contact person regarding this topic is:
Dietmar Huber
+49 8531 705-31
Huber and Ranner offer custom-tailored air handling equipment for flexible solutions to meet even the most sophisticated requirements. All our products consist of singular modules that match each other ideally and can be arranged in a flexible manner. The components are designed to work in partnership, allowing top performance and low operating costs, and using intelligent controls for improved output and maximum efficiency. We only use high-quality products. The use of the latest technology and a commitment to innovation ensures that the appropriate level of performance is achieved at all times according to load requirements whilst simultaneously minimising energy usage.
…every air handling unit manufactured by Huber and Ranner is a valuable investment in the future of your business.
Idea & Concept
Our object was to provide stronger walls and intelligent profiles for more solidity and tightness. The basis of the concept was to connect the housing components more effectively by an external panel screw connection. With eliminating disturbing screws and unnecessary resistance in the air flow, air handling units by Huber and Ranner provide for hygiene!
Frame profile construction
X-Case is a clear winner in terms of stability. The product is made from a 2mm thick steel sheet with additional angles which provide for an increase in stability. This is – among other components – one of the reasons for the enormous performance potential of X-Case. A both solid and innovative solution.
Seal
In order to obtain an even better standard of tightness, the customary foam seal made of foam rubber was developed. The specifically-designed dual-chamber seal has a double function: It ensures very low leakage values and eliminates thermal bridging. Benefit twice!
Door Handles
The security of our inspection doors was improved by ergonomic comfort handles. All mechanics were shifted to the outside with the effect that there is less heat exchange and less resistance in the air flow.
Panel Screw
During the construction of X-Case, all screw connections were relocated to the exterior. Thus, the interior housing of the product consists of totally even surfaces without any protruding parts. The air flow is led through the system without any resistance. This provides an increase in hygiene. Exterior panel screw connections provide a clean and easy-to-service solution!
Lifting Eyes 
As our products are supplied with lifting eyes, transport and assembly are facilitated. The modular construction of our air handling units guarantees to save installation costs since all work can be carried out quickly and easily.
Hygienic Droplet Separator
The cassettes of our dehumidifier are suspended on stainless steel rails which facilitate maintenance and cleaning. The open construction underneath ensures complete condensate drainage. The ideal solution with respect to hygiene and ease of maintenance.
50 Measure
The standard of the thickness of material is 50mm. The Huber and Ranner team continuously pursues the goal of development – to set a minimum standard and to further enhance the quality standard. Our extended profile frame construction guarantees an even greater stability of the construction. Air handling units by Huber and Ranner are robust and of highest quality. Thermal Decoupling 
We have kept proven elements and integrated them in innovative technology. The clear perforations reduce thermal bridging to a minimum. The existing utility model protection by the German Patent and Trademark Office will remain in the future.
Module Connections
The conventional screw connection was replaced by a well-shaped  and solid connection element. As usual, the idea was thought through from beginning to end which provides a professional, solid and above all, hygienic solution.
Lighting
HY-Light is an energy-saving LED lighting system optimized for maintenance. Highest standards of hygiene are guaranteed as it is hygienically integrated into the housing of the air handling units.  The cable rooting is untouched by the air flow.  We are also happy to offer you a simpler solution with a fluorescent tube. We provide you the version you need.
Hygienic, accessible Floor
Due to its even surfaces, the floor or our air handling units complies with the highest standards of hygiene. Moreover, no further measures or gratings are necessary to walk on the floor.
Drain Tray
The condensate drain tray made of stainless steel is sloped in all directions, therefore ensuring complete condensate drainage. Furthermore, it is equipped with a double overflow protection in case of a temporary breakdown of the external systems.
Equipment Bonding etc. included
Equipotential bonding is one of the countless details that our customers do not need to think about.
Inspection Window
We only use double-glazed windows  of highest quality with a diameter of 200mm, providing a durable solution concerning heat insulation. To prevent condensation, the panes are integrated in a special seal profile. Ease of maintenance is guaranteed.
Inspection Door
Simple, but efficient: the rubber seal is not applied to the doorframe, but encircles the door, therefore minimizing abrasion. The individual components – hollow chamber seal, frame, door and hinges – are perfectly compatible.
Maintenance Rail
Facilitates maintenance: heavy components such as motors, fans or heaters etc. can be changed by only one person without need for additional equipment.
On average, people spend 70-80% of their lives indoors. High air comfort contributes hugely to our well-being and productivity. The selection of high quality products  in the area of indoor air treatment is therefore of paramount importance.  Our selection of AHU components and housings enables us to respond optimally to our customers' demands, as our modular AHU concept offers unparalleled versatility in the implementation.
To constantly produce the optimal climate for each need puts high demands on modern ventilation and air handling units. We provide custom-tailored equipment for flexible solutions. Invest in certified AHU products by Huber & Ranner. Do not be content with anything less than the ideal – for  your comfort and satisfaction.
We guarantee perfect climate, even under extreme conditions. Rooftop units are particularly exposed to the weather conditions. Extreme fluctuations in temperature and moisture stress the material to a considerable extent. Huber & Ranner offer  the AHU you need.
High standards of quality and reliability apply especially to integrated cooling technology. All cooling components are optimally matched to one another. AHU parts of the latest generation can be arranged in a flexible way.